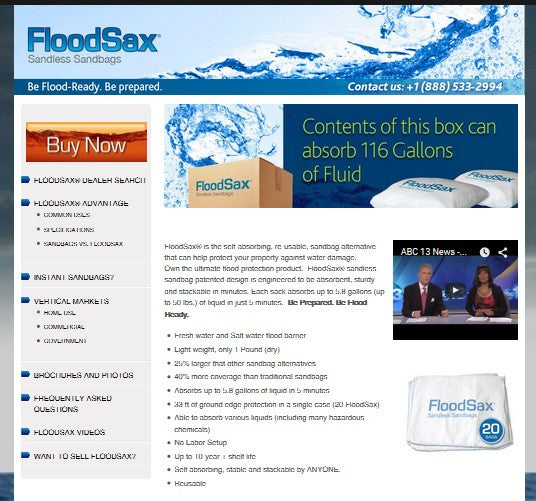 FloodSax® Sandless Sandbags Launches New Website and Brand Refresh 
Rancho Santa Margarita, Ca
FloodSax® US, the #1 Selling Sandbag Alternatives and Water Absorbent Pads, today introduces the launch of a new website (www.FloodSax.US.com) and its brand identity.  FloodSax® invites visitors to experience its new website and brand image; created to deliver a greater user friendly experience with improved functionality and navigation. The new website offers a sharp, modern design, and a content-rich experience, offering engaging videos, galleries and brochures. It also provides social media integration and direct links to FloodSax® Facebook, Twitter, Google+ and YouTube channel, where company and product updates appear on a regular basis. 
The new website highlights FloodSax® products, which can be purchased online, as well as through the large dealer network across the country. FloodSax® instant sandbag product pages offer photos, videos, specs, shipping, and pricing information, as well as an easy to use shopping cart experience. Organizations interested in becoming a FloodSax® Sandless Sandbag dealer can apply for distributorship online as well as stock their storefront through the ecommerce portal (not previously available).
While the website is world-class and offers ultimate ease of use to purchasing sandbags online or instore, FloodSax® still offers excellence in support to customers and partners. The brand refresh and new online ecommerce experience is to offer an online resource for companies and individuals to learn more about FloodSax® sandless sandbag alternatives and how the instant sandbags can help save thousands of dollars in liquid and flood damage.
FloodSax® has a large network of distributors in the US as well as around the world. These channels will continue to handle large orders and provide quality custom solutions in their respective regions. 
About FloodSax® USA:
FloodSax® Sandless Sandbags are instant, lightweight, compact, fast absorbing & highly stackable to create flood wall barriers. FloodSax® Sandbag Alternatives go from 1 lb. to 50 lbs. in just 5 minutes of absorbing almost any kind of fluids (from water to hazardous chemicals). With over 2,000,000 units sold globally, FloodSax® have been featured on DIY Television's "Disaster House", news stations around the globe including NBC, ABC, CBS, affiliates, BBC and cable news programs.
FloodSax® helps protect people and property against surging floodwaters, while absorbing fluids without the sand, labor and mess. As a super water absorbent pad, FloodSax® is ideal for protection from costly water damage, caused by leaky appliances, pipes, water heaters, aquariums, toilets, sinks and much more. Dry, FloodSax® weigh about 1 lb., making it compact and lightweight and easy to be placed by virtually anybody. Activated, FloodSax® sandbag alternatives expand to be about 50 lbs. in weight, making it easy to stack and stagger for superior flood barrier walls. For more information, visit www.FloodSax.US.com  
Media Contact for FloodSax® USA:
Nikki Ong
+1.888.533.2994