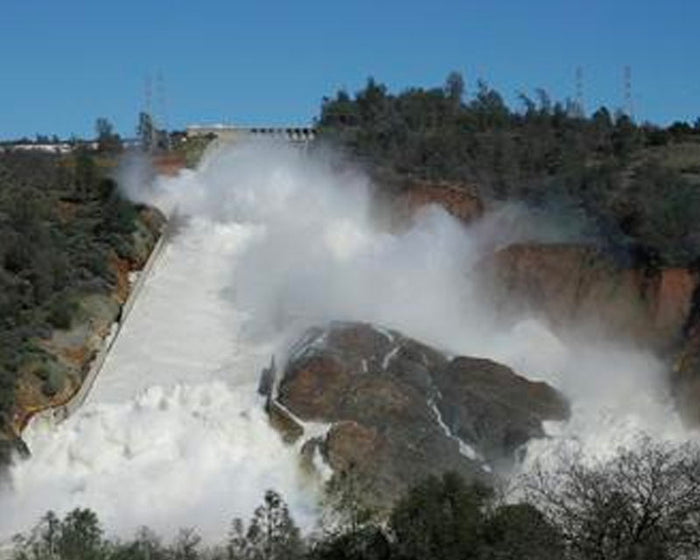 The #1 Selling Sandless Sandbags on the market, FloodSax® provided aid during the Oroville Dam flooding emergency event, delivering 2,500 instant sandbags within hours of request.
Rancho Santa Margarita, Ca – FloodSax® USA, the #1 Selling Sandbag Alternative, offered the perfect solution when it came to the flooding emergency at Oroville Dam this February.  With record rainfall from storms hitting most parts of California, especially in Northern regions, Oroville Dam reached maximum capacity.  Catastrophe hit, when the Oroville Dam spillway began to crumble, forcing them to use an emergency reservoir that has never been used before.  In caution, officials evacuated over 188,000 homes.  Throughout the storm and in preparation, the state Department of Water Resources have setup use of traditional sandbags, large rock filled bags, but with too little resources on sandbagging and setup, they decided to turn to FloodSax® Sandless Sandbags.
While the state Department of Water Resources have put many sandbags and large rockbags in use, the flooding emergency required more sandbags… and immediate deployment.  With an serious situation at hand and already limited manpower, the state Department of Water Resources decided to work with a trusted flood barrier solution; FloodSax®.  In response to an urgent call, FloodSax® USA worked quickly and closely with their logistics team to deliver over 2,500 bags of FloodSax® instant sandbags.  Delivery occurred in less than 1 day of the initial Saturday emergency phone call, FloodSax® were delivered to the Oroville Dam, to help divert the dam break water flows.
Racing against time, the California State Department of Water Resources needed to build a flood barrier wall at over 3 feet in height and over 100 feet long to divert flowing waters.  Understanding that FloodSax® offer an effective and unique patented design, it was an easy decision to go with FloodSax®.  FloodSax® will continue to work closely with officials and the geologists involved at the Oroville Dam to ensure effective flood damage mitigation. 
About FloodSax® USA:
FloodSax® Sandless Sandbags' patented design offers instant, lightweight and highly stackable sandbags to create strong and effective flood wall barriers.  FloodSax® Sandbag Alternatives go from 1 lb. to 50 lbs. in minutes by absorbing almost any kind of fluid (from water to hazardous chemicals).  
FloodSax® helps protect life and property against flood waters, while absorbing fluids without the sand, labor, and mess.  As a super water absorbent pad, FloodSax® is ideal for protection from costly water damage, caused by leaky appliances, pipes, water heaters, aquariums, toilets, sinks and much more.  Dry, FloodSax® weigh about 1 lb., making it compact, lightweight and easy enough to be handled by virtually anybody.  Activated, FloodSax® sandbag alternatives expand to be up to 50 lbs. in weight, easy to stack, stagger and stable for superior flood barrier walls.