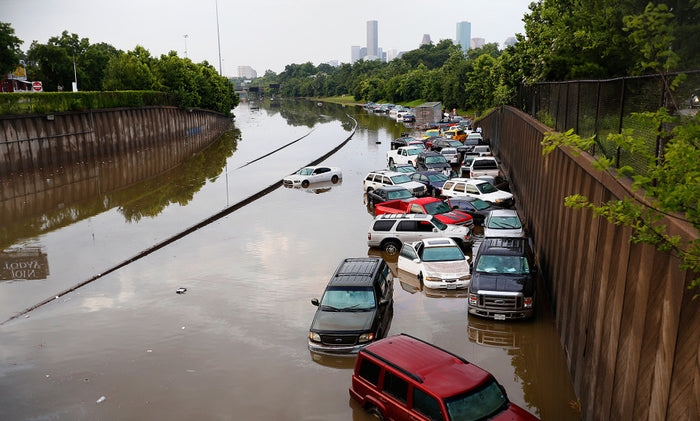 With severe weather already in full effect this winter, including storms, tornadoes and many flash flood alerts, many are planning ahead and looking to buy sandbags for flooding online.  While there are many sandbags for flooding available on the market, it makes sense to consider features before purchasing. 
The last thing you want is to have sandbags that don't protect when disaster strikes. 
Cheap Sandbags for Flooding
First, If you are looking for cheap sandbags for flooding, and have plenty of time and resources to dig, fill and bag traditional sandbags, then FloodSax are not for you.  The pros of cheap and dirty traditional sandbags are that they are just that.  With low grade Polypropylene sandbags, its tarp-like material degrades over time, making planning ahead for flooding events difficult.  After just a few weeks of leaving filled Polypropylene sandbags in the sun, it the bag rots, making all of the work of digging, sandbagging and tying up sandbags a waste of time.  Flood sacks instant sandless sandbags are different.  They are compact, lightweight and easy to deploy. 
Best Sandbags for Flooding
If you are looking for a convenient, clean and easy way to deploy sandbags in the case of a flash flood, FloodSax is the answer.  It is great to see great community efforts where hundreds of volunteers standng on mounds of sand doing their share to build sandbags.  However, if you don't have the time and resources to dig sand, fill dirty sandbags and carry and transport the 50 lbs bags from one place to another?  FloodSax instant sandless sandbags offers the best sandbags for flooding.  When kept in its vacuum sealed bag, FloodSax sandbag alternatives store for up to 10 years.  In just 5 minutes, FloodSax inflate from 1 lb. to 50 lbs., ready to fight flood waters to protect your property.  When you need sandbags, FloodSax are ready to be deployed in an instant.  Here you can see FloodSax keeping waters at bay.
Compact and Lightweight Sandbags for Flooding
FloodSax are so compact and lightweight it can be deployed by anyone; including the disabled and elderly.  There is nothing as lightweight, yet as strong and durable that can build high flood barrier walls.  While similar products are lightweight, they do nothing in comparison, as they are filled with less expanding polymers filled in a single case sack... making it an unstable sandbag that is difficult to build water barrier walls.
FloodSax start at 1 lb., when dry, once water is added, the flood bag expands to 50 lbs.
Comparison on Sandbags for Flooding
The image below illustrates how high Flood sacks can be stacked vs. competing products that just simply don't offer the size, volume and structure to stack high flood barrier walls. 
Other Sandless Sandbag                  FloodSax Instant Sandbags
Click here to buy FloodSax / flood sacks online now.