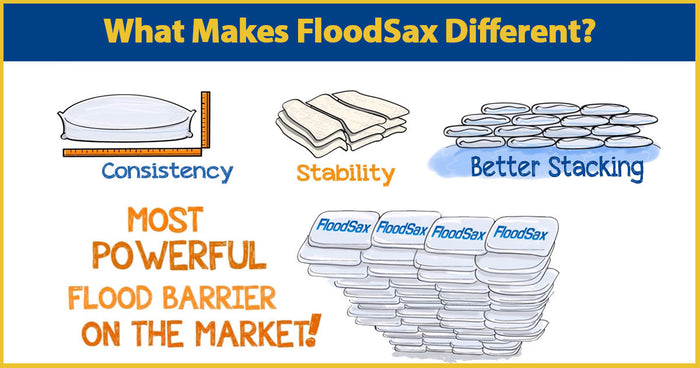 Flooding Risks
A major factor many cities, families, businesses, schools, etc. have to consider is flooding prevention. Just between 2001 and 2010, an estimated $2.7 billion dollars in losses was recorded in just the United States alone. Unfortunately, very few locations are free from the risks of flooding, and in fact 20% of floods occur in settings where flood risk is reported to be low. Therefore, flooding is a global and urgent issue. FloodSax recognizes the importance of immediate and long-term flooding prevention and protective measures. The company's revolutionary Sandless Sandbags have changed the way thousands deal with protecting their homes and businesses from the potential consequences of flooding emergencies. The sandbag alternative is made with a patent approved, super-absorbent design that allows it to efficiently activate and absorb liquids within minutes.
FloodSax Sandbag Alternative and Absorbent Pad Products
Flooding disasters not only damage streets and buildings, but can also find their ways into your home, potentially causing thousands more in damages and health risks for your family. The fact that it can happen anywhere at any time makes it even more urgent for families and individuals to take preventive steps now. FloodSax products allow you to be prepared starting today with a few easy steps. Simply remove the packaging the sandbag comes in, place the product in the location where water may come in contact with the sandbag or customers can even pre-activate it by adding water, then use the FloodSax sandbags to create a barrier to your satisfaction.
FloodSax Sandless Sandbags Patent Design
The incredible design involved in FloodSax Sandless Sandbags allow the product to absorb 50 times its dry weight! Once in contact with liquid, the sandbag can retain the liquid contents for up to 90 days without risk of spills. Easy to use for anyone, the sandbag alternative is lightweight when dry and easy to store and use. Customers can store them for up to 10 years using a vacuum-sealed pouch as well. FloodSax products avoid the hassles involved in purchasing regular sandbags such as storage and transportation issues. Additionally, FloodSax sandbags utilize a biodegradable polymer crystal design and emphasize the importance of protecting the environment at the same time. Flooding is recorded as the most common natural disaster in the United States, and affects individuals, families, and companies worldwide. Taking flooding prevention steps today could save you time and money in the future.